Drivers License Veterans
Veterans Driver License Designation
Beginning May 1st, 2013, Alabama Veterans will have the option of displaying proof of military service on their driver license.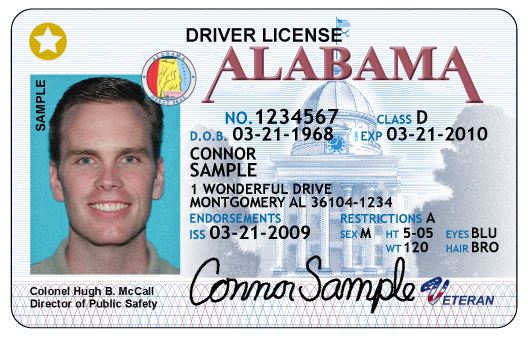 Alabama veterans may have the option beginning May 1 of displaying proof of military service on their driver licenses.
Some veterans returning from deployments in such places as Iraq and Afghanistan may deal with Post-Traumatic Stress Disorder or other issues. The designation on their driver licenses will clearly identify them if they require assistance or come into contact with law enforcement officers and/or medical providers.
To establish proof of service, a veteran must visit one of the Alabama Department of Public Safety's Driver License examining offices or the local county office and present a DD-214 form from the U.S. Department of Defense that shows an 'honorable' or 'general under honorable conditions' status.
There is no additional charge for the veteran designation for a first-time driver license applicant or for an individual seeking to renew his or her license.
A veteran who chooses to add the designation before his or her renewal date, however, must pay $36.25 for a duplicate license.